From First to Last: Surfing on the Second Wave
The rapid humbling of the Czech attitude over the nation's response to COVID-19 has been quite something to see. After a strong lockdown in March and April, restrictions began to be loosened in May. In July, there was even a "Goodbye to COVID" potluck dinner on Charles Bridge.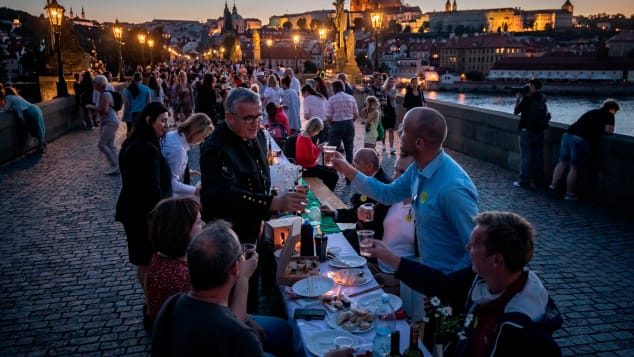 Except, when they said "na shledanou," COVID said "dobrý den."
Yikes! But, in case you were thinking that maybe that's just the result of increased testing, etc...
As of the time I am writing this (Tuesday, September 29th), there were over 800 patients in Czech hospitals because of COVID and about 180 who were seriously ill and on venitalators. A month ago, 158 people were in hospital, and 37 were on ventilators. That's an over 400% increase in both those figures in a month. By my math, about
one half
of
all
Czech coronavirus infections have been detected in September. The crisis went from "a thing of the past," to "back but manageable," to "much worse that it had ever been in March" within weeks.
So, what happened? Well, for a start summer ended. Which meant that kids went back to school. Of course, schools for kids 19 and under (19 is the graduation age here) opened with safety precautions in place, but within almost the first week, there were dozens of reports of kids infecting their sports teams, their classmates, and, of course, their teachers. It also meant that holidays ended for adults, with everyone slowly resuming their standard routines, speding more time indoors, riding mass transit, etc.--all with relatively little concern about COVID and very few restrictions in place.
But as summer faded and the looming crisis was on the horizon, the slow but steady increase in cases in early September started to prove that the pessimists may have had a point. However, the Prime Minister, Andrej Babiš, seemed hesitant to put any pre-emptory restructions in place. There are regional elections coming up this weekend, and his party--ANO--has been falling steadily in polls. Ws the PM leery of reimposing unpopular restrictions to curb a deadly pandemic because he didn't want to annoy voters before an election? Maybe.
However, just over a week ago, the tone started to shift. With the number of cases per day regularly averaging 1000+ (a figure never seen once in March), Babiš went on TV, encouraged everyone to wear masks, and said it had been a mistake to ease the restrictions in summer--though, he did say that everyone had wanted it to happen, which has a faint whiff of "This is all your fault!" Then, quickly thereafter, came the surprise resignation of the Czech Minister of Health (and former "Czech Idol" contestant), Adam Vojtěch.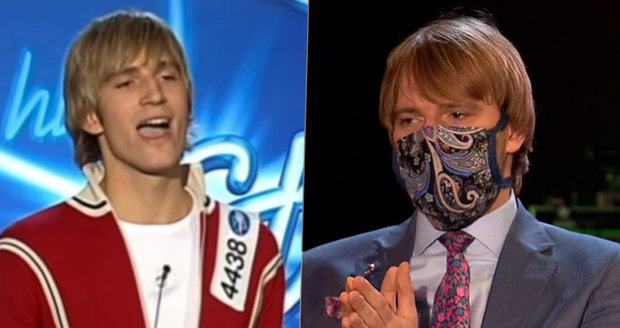 Vojtěch, who is only 33, had been Health Minister throughout the crisis, and seemed to be doing a good job of communicating with the public, bowing either to the medical experts, or the Prime Minister, based on the situation. His own tendencies are hard to discern--he's a lawyer by training, not a doctor--though he was "corrected" by the PM in early September for saying things that seemed to indicate the virus hadn't, in fact, been beaten back and that masks might be necessary again. BTW, the mask requirement for all public places was reintroduced shortly after Babis had made a point of shooting it down.
But, a loyal supporter of the PM, Vojtěch quickly fell on his sword to presumably allow the government to chart a fresh strategy. His replacement, however, was Roman Prymula, a familiar face who had served as the head of Czech COVID crisis team in the early days of the pandemic. An epidemiologist and expert in vaccines who is decidedly not a politican, Prymula had been one of the more "doom and gloom" leaning voices in Czech politics about COVID. Closed borders for years, perhaps. Overwhelmed hospitals if we don't bend the curve. All the worst forecasts, he took serously and discussed in public.
Now, to me, as an American, this seems eminently sensible. A smart, educated scientist who is taking things seriously now explicitly has the trust of the PM to do what's necessary to reverse course? Great! Except...there's a sizable contingent of Czechs who have decided that COVID isn't really that bad, it's just an excuse from the government to take away civil liberties. In a country that was under a communist dictatorship overseen by a foreign government a hot minute ago, the anxiety is perhaps understandable. So, any "hardliner" on COVID is going to be treated with suspicion by many. The fact that Prymula is a colonel in the national military reserve also raises eyebrows, because most of the world isn't as fond of the military as America is.
Aside from the revived mask madate (all shared indoor spaces), the first major concession to the rising COVID wave was the last-minute switch to distance learning for universities in Prague, the largest hotspot in the country. With school slated to begin in person at some universities on Monday, September 21st, the Mayor of Prague (not the PM, ror the Education Minister, ror the Health Minister...) announced the Friday before classes that, nope, Prague is too dangerous: all university classes scheduled to take place in Prague would shift online for the indefinite future.
Word has broken today that, after an expected new declaration of a State of Emergency, secondary schools in hotspots could also expect to shift to online education starting next week. With the election coming Saturday, it seems likely that any electoral motive for going slow with restrictions will fall away, leading to...who knows? The most recent word from Prymula is that places with intense outbreaks (like Prague) can expect radical, but targeted restrictions. Your guess is as good as mine as to what that means.
In the end, sitting here, 6 months into this global pandemic, the Czech story feels so much like one of hubris that I fully expect a Greek chorus to show up at any minute. A whole nation--and its government--got cocky, and tried to get "back to normal" too quickly, and with too little respect for this virus. I can only hope that, once we do break this second wave, twe don't make the same mistake again.